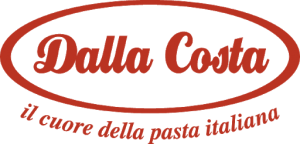 Italian pasta producer of 87 different formats with 19 different flavouring.
We have built our history upon the experience of three generations of pasta makers, mastering the art of blending durum wheat semolina flour with the crystal-clear waters that emerge from springs in the Piedmont region. We have dreamed, experimented and laboured to bring new life to the icon of the Italian culinary tradition: pasta.
We have a 25-year history behind us, we export to 51 countries around the world with an export share reaching 70%. We make over 87 different formats with 21 different semolinas and flours and 19 different flavourings. We manufacture in 2 factories with 4 production lines and 11 packaging lines. We have a workforce of 60 people who are our strength and our added value.
He quality of Dalla Costa pasta is all to do with the quality of the raw materials. It is made with highly selected durum wheat flours and using a very careful working process, from mixing the dough to drying. The result is a top-quality pastathat is flexible and firm, remaining full-bodied on the plate, with an aroma, colour and taste that makes it unique.
The firmness and quality of Dalla Costa pasta are the result of selected durum wheat semolina flour, the expert production process used, extrusion through bronze dies only and careful drying. The durum wheat semolina flour used to make the dough is obtained from the core of the grain of wheat. No additives or colourings are added to the dried spices and vegetables used in our pasta that give flavour, aroma and colour to Dalla Costa pasta. They originate from crops that are not genetically modified, are controlled and on which no radiation methods are used.
Dalla Costa embodies the sunshine of Italy and is the perfect expression of all that is best about Made in Italy.
We have therefore chosen to "certify" every aspect of our organisation and every process, because actions speak louder than a thousand words.